Conor McGregor faces what will undoubtedly be his greatest test against what is certainly his greatest opponent on Saturday in Las Vegas, Nevada
The UFC lightweight champion has made a career of upsetting the odds and pulling off feats which were deemed far beyond his capabilities.
When McGregor enters the ring against living-legend Floyd Mayweather Jr. on Saturday night at the T-Mobile Arena in Las Vegas, he will have the opportunity to truly solidify his legend. The MMA megastar has achieved heights never before seen in the UFC, having become the first fighter to ever reign over two of the promotion's separate weight classes simultaneously. Four of the top five pay-per-view events in the history of the UFC were those with McGregor as a headliner and his current net worth of $34 million stands testament to his
Four of the top five pay-per-view events in the history of the UFC were those with McGregor as a headliner and his current net worth of $34 million stands testament to his talents as a phenomenal self-promoter and businessman. Make no bones about it, it is the Irishman's ability to draw a crowd which was crucial to securing the bout with Mayweather. While "The Notorious" is undoubtedly an excellent fighter, the chance to pit the most marketable man in MMA history against boxing's undisputed pay-per-view king was an opportunity which would not be missed.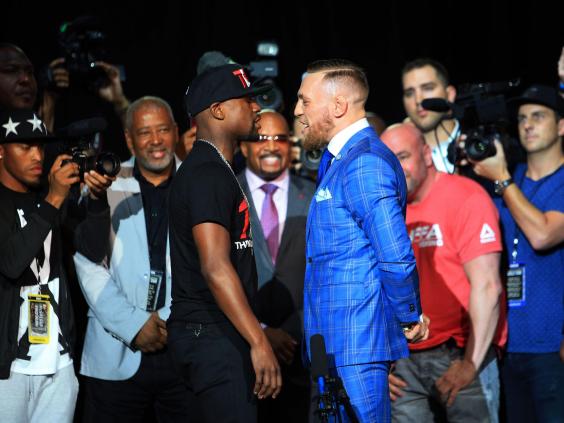 When looking at the fight from a competitive stand point, this is, for many, where the comparisons end. Mayweather, one of the greatest fighters in the history of the sport, faces what will effectively be a boxing debutant in McGregor. While the 'puncher's chance' idiom has been thrown around a lot when discussing the Dublin native's prospects heading into the bout, is this really enough to warrant a pay-per-view top price of $99.95 for a supposed contest. The basis for selling this fight is to make it appear that the 29-year-old has a chance, so let's take a look at what McGregor can bring to the table and what he can expect from Mayweather:
The Transition From MMA to Boxing:
McGregor must, for the first time in his career, enter the arena of professional combat without many of the tools which had made him stand out in the first place. While the Irishman's ground game is not among the strongest weaponry in his arsenal, his kicking game is.
While all of McGregor's KO's/TKO's in his career have come from punches (except one for elbows) his kicking game has played a big part in how he manages an opponent's distance and, if we look at his fight against Chad Mendes in 2015, how he slows an opponent down with kicks to the midriff. In the rematch against Nate Diaz in 2016 at UFC 202, we saw McGregor employ a tactical leg kicking game designed to weaken the legs and slow his opponent down.
When McGregor enters the ring against Mayweather, he will essentially be resigned to attempting to beat a chess master at his own game in "Money". More than this, he will have to rely on using just his fists in a capacity which will be against the instincts and reflexes built up over the course of over a decade of Mixed Martial Arts practice. McGregor's internal frustrations promise to have a huge impact on his ability to express himself as a fighter, being restricted in the threats he would usually be able to offer against his opponents inside the octagon.
Boxing Fundamentals:
We all know McGregor can throw a punch, but this does not constitute boxing ability. From a technical standpoint, McGregor's karate stance in MMA (which he has incredulously stated that he will employ on Aug. 26) is practically dangerous inside the boxing ring – times this by 10 when we are considering that he will be standing opposite Floyd Mayweather Jr. From the limited footage we have seen of McGregor sparring Paulie Malignaggi and Chris Van Heerden, the Dubliner does not appear to have a handle of fundamentals such as head movement, footwork or (in the case against Van Heerden) a good approach to defense. These basic principles take years of work to perfect and will be exploited mercilessly by Mayweather, should he wish to.
Power:
The old boxing axiom "power without control is nothing" resonates when assessing McGregor's chances against Mayweather. Yes, McGregor can hit hard, but he will certainly not be in control of this fight. In fact, the SBG Ireland man will find it hard to keep himself in control due to Mayweather's ability to frustrate his opponents time after time. The more McGregor swings and misses, the more he will be prone to getting frustrated. The more he is frustrated and angry, the more windows will open for Mayweather to exploit.
Southpaw Stance/Awkwardness:
Unfortunately for McGregor and those backing him next week, the myth of Mayweather's Achilles heel being southpaws is easily disproven by one simple fact: he has never lost to a southpaw because he has never lost at all. If Manny Pacquaio could not exploit this supposed weakness on the 40-year-old's part, McGregor will not. While it will be interesting to see how Mayweather reacts to his opponent's awkward and unorthodox style, this suggestible advantage to McGregor could easily be yet another to Mayweather.
Age:
McGregor, at 29, is 11 years Mayweather's junior, but, this is unlikely going to make much of a difference. "Money" is a man renowned for being the hardest worker in boxing and has never been out of shape in 21 years of professional combat. Mayweather has never smoked or drunk alcohol and, unless he has dramatically atrophied in two years since his last bout, should find the pace comfortable. Mayweather is, after all, more than accustomed to the grueling trial of 12 rounds of boxing. McGregor, on the other hand, is not.
While next Saturday will finally put an end to all speculation and opinion, it is hard to see how McGregor can beat one of boxing's greatest men. One thing is for sure – if the Irishman can pull it off, there will be no doubt as to his greatness as a fighter.
Check out the video above, thanks to TheMacLife.