Conor McGregor's teammate Peter Queally may have inadvertently caused a mini-riot in Russia following a 'scandalous' victory at the Fight Nights Global 87 main event. Queally claims he needed 'armed protection' and was moved from his hotel following his first-round finish
The event also allegedly saw the father of UFC lightweight champion and adversary of McGregor -Khabib Nurmagomedov – take the mic at the KSK Express arena in Rostov-on-Don, Russia, on Saturday night.
The referee on the night – Jan Vobornik – stopped the fight which led to protests from a number of fans in attendance. Many thought it would be a great idea to launch a number of items into the cage when the official decision was being announced. This was, allegedly, in protest at the early stoppage. According to MMAFullContact's Russian correspondent – Ivor Dragon – some pretty odd objects ended up inside the cage:
"It was crazy," Dragon said. "There were bottles, cans, underwear… hell, I even saw a few DVDs, satellite dishes, and even a signed photo of The A-Team's Mr. T. As I walked around the cage, these objects were being brushed to the side by workers. There was a goat, seven chickens, and what appeared to be a Komodo Dragon and 55 chocolate chip muffins.
"Things got so crazy that it turned into a little bit of a party. We all were very surprised when Khabib's father grabbed the Mic and bust into a rap. Rather than spit the lines in English, he did it in Russian, but luckily I understood what he was saying".
Abdulmanap Nurmagomedov, who is the father and coach of UFC lightweight champion Khabib Nurmagomedov, ended up being hit on the head by what was allegedly a motorbike. Nurmagomedov Sr. then grabbed the mic, telling the audience to "go f**k themselves" before targeting Conor McGregor, Tony Ferguson and… oddly enough… US chatshow Queen, Oprah Winfrey.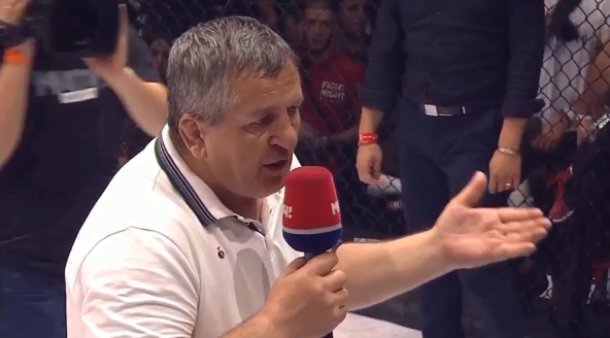 Our reporter managed to write down everything that was being said, transcribing it for the purpose of bringing it to you, the reader:
"It went like this. He cleared his throat, flipped everyone the bird and then had one of the other team start beatboxing for about 20 seconds before he hit into his rhymes".
According to our reporter, the rap went like this:
Hey yo, let me… let me clear my throat and say some things Y'all gotta hear…
Conor McGregor, why keep us wait? You were 145 and lightweight
Never defended a belt, had any intention to fight; this Abdulmanap and I'm gonna break some sh*t down tonight
First off, f**k your beard and the belts you claimed
Russia I, full of pride, when we stamping on your leprechaun face
You claim to be a champ, but never defended a belt
Comin' anywhere near Russia gonna be bad for your health
John Kavanagh tryna see me, but his team I'll rip, Conor McGregor, Artem Lobov, and Oprah Winfrey smells like piss
We're fighting bears while out there combing hairs, got your belt and you're just running around scared, hiding under stairs
Tony Ferguson getting beaten up by a cable there and then, pulling out more times than a Catholic, wearing them, like those funny hats from goats I'm shearin' them'
At this point, the crowd booed and claimed that Nurmagomedov's father was butchering 2Pac's infamous beef track "Hit 'Em Up" with an assault on McGregor and his team. Fans did not ask Abdulmanap to drop the mic, however, instead of calling out popular songs for him to sing, given the fight had ended early.
"What the f**k you want me to sing," he told the crowd, who were screaming out track titles such as "Freebird", "Stairway to Heaven" and Whitney Houston's classic, "I Will Always Love You".
After a few minutes of consulting the crowd, Nurmagomedov Sr. announced that he had settled on a song:
"Black or White. Michael Jackson. You don't like it, then get the f**k out of here," he said, before bursting into the first few lines of the 90's hit.
"It was very strange indeed; one of the weirdest things we have ever seen at a fight," said Dmitri Kolarov, who was in attendance and allegedly spoke to Ivor Dragon. "The most surprising thing was that he had a really, really good voice. He sang a few more songs before finishing with Frank Sinatra's 'New York, New York' which was really cool.
EDIT: MMAFullContact, unfortunately, had to fire our Russian reporter Ivor Dragon, when it appeared that none of this actually happened and he made it all up. Dragon fell asleep in the toilet while the fight was going on and needed a story.