The UFC's biggest ever superstar, Conor McGregor, looks set to return to the UFC. The promotion's President, Dana White, told the media on Wednesday that he would be meeting with the former two-time champion to 'discuss' his future this weekend in Liverpool, England
McGregor's last appearance inside the Octagon was all the way back in Nov. 2016, where he beat former 155-pound champion Eddie Alvarez to become the first fighter to hold two titles in two weight classes at the same time.
Since then, McGregor has been a little quieter when it comes to MMA, instead focusing on pissing off the Irish mob, picking fights with referees and buses, of all things. With Russia's unbeaten star – the bear-fighting Khabib Nurmagomedov – now holding the lightweight title, could we see a super fight between two of the greatest talents in UFC history? Or will McGregor opt for a bout with Nate Diaz?
The chances are that it may not be Nurmagomedov or Diaz. In fact, given that a fight with McGregor is essentially a pay packet like no other in MMA, there will be a queue of fighters hoping for their very own "red panty night". With McGregor's propensity to promote a fight, choosing his next opponent may be a lot harder than you might think.
Below, MMAFullContact's Bert Earnie ranks the 5 possible opponents for the potential return of "The Notorious" below:
The Irish Mob
"I have to say about this, and I'm wearing my old, veteran crime reporter hat. Conor McGregor is in a very dangerous place at the moment. He has come into conflict through probably no fault of his own, with a group of very, very dangerous people who are tied up with the Kinahans."
These were the words of a renowned Irish crime reporter in November 2017, following reports which alleged Conor McGregor had assaulted a family member of the Irish mob. McGregor – who had lost his boxing debut to Floyd Mayweather, but earned a reported $100 million for his troubles – had an alleged bounty on his head close to $1 million, according to a separate report.
When it comes to opponents, the Irish mob are among the worst the Dubliner could opt for.
Chances of happening: Highly unlikely
Referee Marc Goddard
Conor McGregor hopped into the cage at Bellator 187 in Dublin, much to the surprise of everyone watching.
An animated and fired up McGregor rushed towards teammate Charlie Ward to congratulate him before being pushed away by referee Marc Goddard. The Dubliner, clearly upset with Goddard, then rushed towards him before being held back from the official and leaving the cage by his own accord. "The Notorious" then shouted back towards the referee and attempted to enter the cage again, slapping an official and causing a pretty crazy scene inside Dublin's 3 Arena.
There seems to be no bad blood between both McGregor and Goddard as it stands, meaning we can possibly rule this one out, too.
Chances of happening: Unlikely
A Judge
McGregor will be facing a New York courtroom in June, following his antics in New York which saw him attack a bus carrying UFC fighters ahead of UFC 223. McGregor could face a lengthy prison sentence – which could see him imprisoned – but this is not likely to happen. However, depending on the punishment handed down by the judge, the Irishman may have a bone to pick with the man tasked with teaching McGregor a lesson.
Chances of happening: Strong
A Bus
What other fighter in UFC history has demonstrated such a hatred for buses. It seems that McGregor's disdain for the four-wheeled passenger carries runs deep. The hatred seems so real, that "The Notorious" risked his career and a severe/career-ending punishment to show buses who is boss.
"He hates the way they look, the way they sound… the fact that they have windows. I mean, he just hates buses and wants to f**k up everyone he sees," an alleged close confidant of McGregor told MMAFullContact. "I fear every time we are together and one of those stupid tour buses come past. The hatred is real."
Although getting a bus into the Octagon will be difficult, the chances of McGregor fighting one is pretty significant.
Chances of happening: Very Strong
Khabib Nurmagomedov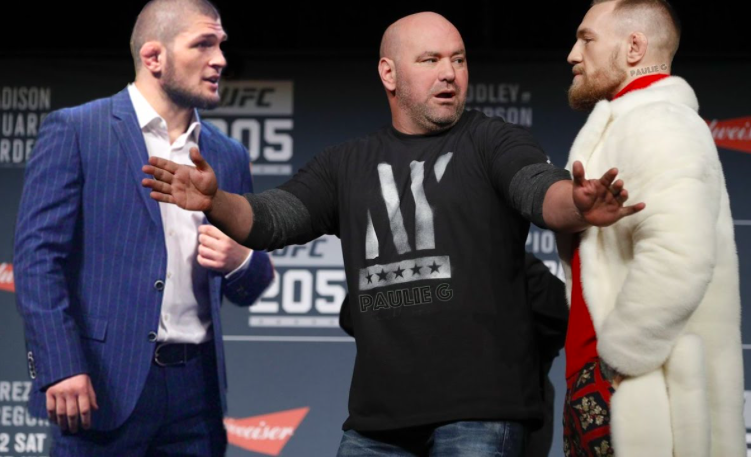 McGregor held both the featherweight and lightweight championships in the UFC – and titles in the same weight classes in Cage Warriors – yet never defended one, ever. Not once. Khabib Nurmagomedov is one of the most ruthless fighters in UFC history, and many believe his ground game is too much for McGregor.
Another thing is… ah, forget it. It'll never happen.
Chances of happening: There is more chance of seeing Elvis and 2Pac invading North Korea on rocking horses